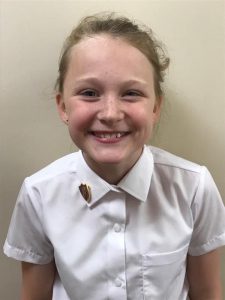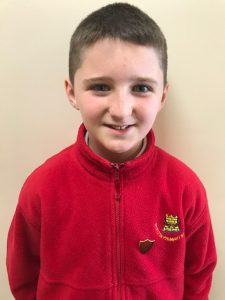 "Hello we are Delilah and Lucas. It is our job this year to help in the running of the school by looking out for the children and the staff. We will shortly be making a little questionnaire for the pupils to see how they are doing in class, we are also building up a display board for the staff to keep them informed and smiling. For now, here is a story for you."

We have asked Y6 what ideas they have to introduce our 5R superheroes.
Head Boy and Head Girl

A Head Boy and Head Girl from Y6 are appointed by the teachers in September. They are the main representatives of the school showing visitors around, being the front of house for publicity and school events and an advisor to Ms Walker.
School Council
Skelton School Council members are elected by their classmates. They share the thoughts of their class. They meet monthly and innovate & improve school, contribute to the notice boards and gather and share children's ideas. They are responsible for our play castle, our lockers and much more!
House Captains
We have four House teams: Boulby, Transporter, Catnab & Hilltop symbolic of our local community. Siblings join the same house team and Captains are responsible for leading house assemblies, choosing a charity for the year and tallying house points.
Eco Warriors
The Eco Warriors are chosen by interview.They make sure that everything in school is as eco friendly as possible! They meet regularly, they organise posters to promote energy saving, recycling and litter picking. They run allotments, organise the recycling boxes, organise regular on site litter picks and innovate on things eco.
Design Team
Our talented artists lead on major creative projects in the central areas of school. They have created our timeline, our WW2 bomber and helped to design a mosaic for Wykeham Court residents.
Learning & Teaching Team
This team investigates and celebrates how we like to learn and the kind of resources that inspire and help us. This year they have designed a new reward system for maths.
Librarians
Our librarians are responsible for development of the school library. They support all visitors, read stories, keep the space tidy and arrange the displays and shop front. They also promote new books and how children might enjoy them.
Playground buddies
Buddies are appointed at the beginning of each year to support and enrich the playtime experience for all pupils. They wear caps and tabards and support with socialising, playing or any little concerns the younger children may have.
Rights Respecting Schools Team
The team who promote the UN Rights of the Child both in our school practice and the wider global message. This year they achieved Bronze Level. They work with our School Council and a team of local schools in the borough and are part of the school steering group.